This program is divided into 2 separate groups: Parent and Me & 3 + 4 Year Olds.
Parent & Me
An instructional class offered for 20 months – 2 1/2 year olds.
(A care giving adult must be present and physically able to participate with child.)
Children will engage on all of our age appropriate equipment alongside a certified instructor.
They will learn foundational gymnastics skills, as well as gross motor skills.
Children will also make use of our foam-filled pit, Tumbl Trak®, and in-ground trampoline.
This is a 35 minute class.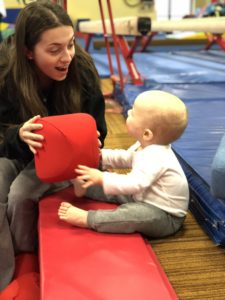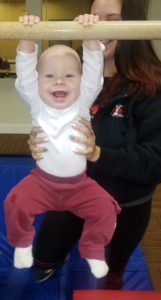 3 & 4 Year Old Gymnastics
Children attend class with their instructor.
(Parents will wait in the waiting area.)
Teacher child ratio is low.
These classes feature basic movement education based upon motor learning principles
and include upper and lower body large muscle development, basic coordination skills,
beginner gymnastics skills, bar and vaulting skills, as well as body and spatial awareness.
The children are also instructed on the trampoline and Tumbl-Trak®
and have the use of our foam-filled pit.
We focus on personal best with this age group.